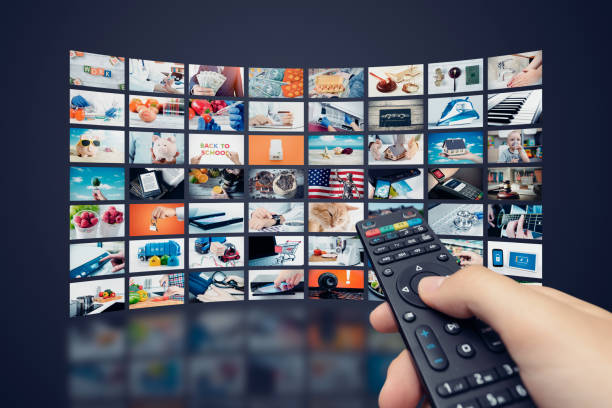 by the Curatorial Working Group
2022-01-12
In the past, the preservation activities of a motion picture studio were often seen as largely separate from the process of distributing both new and catalog content. These activities included things like ensuring newly delivered film materials were stored well and separated for disaster recovery, the photochemical duplication of deteriorating film, and other largely analog steps which would ensure that later distribution efforts would have the source materials needed to create distributable masters.
In the file-based, fast-paced world we now live in, digital preservation activities have become a central part of most major media companies' "digital supply chain," supporting the delivery of content to clients and customers. Most of these companies now support one or more direct-to-consumer streaming platforms in addition to traditional customers such as VOD platforms, theaters, cable companies, broadcasters, disc-based retail, etc.
How does digital preservation maintain or increase its relevance in the face of changing priorities? How do we continue to ask the right questions about digital preservation in this context?
Right now, there are many more questions than answers, and these questions are relevant to everyone:
the archivist, who increasingly is called upon to provide new materials while working to preserve the company legacy amidst rapidly changing requirements
the technologist, who must build tools and systems that can scale while supporting an ever-increasing range of formats with ever-decreasing budgets and timelines
the business sales teams, who will sell this content as they increasingly dig into catalogs to meet consumer demand, market expectations, and sales targets
the executives, who ultimately must justify funding the preservation
the talent, who make great content and trust their studio partners to protect their works
Some of these questions are somewhat addressable for now. For example, entertainment companies frequently use their intellectual property in remakes and take-offs on older films and television programs. So…
How can an archive be supportive of these "new" titles along with old ones?
An ongoing digital preservation program should always be active and flexible. This way an archive can be reactive. Most projects die in the budgeting stage, but by dedicating annual resources to the project of not losing a company's existing titles, the company can realize benefits on remakes in a timely manner.
Meanwhile, media & entertainment companies continue to explore new and novel ways to monetize "extra" or "enhanced" content. As streaming platforms mature, uses such as "cast reunions" or "second screen apps" will be tried, revised, discarded, and revived.
How does the archive respond to these very fast development cycles?
The archive should be a known and established group within an organization. Often the archival activity is distributed across the company, or the required duties are misunderstood. This means that business units don't know where they can find the group to search the archive for content that could be used for enhanced content, and they won't necessarily make the effort to archive the new content they make.
As entertainment companies launch their own streaming services, reorganizations of supporting areas such as marketing and post-production mean that an understanding of the history and knowledge of the company's library may be lost.
How can archives continue to be advocates for the importance of the history of an entertainment company?
Archives and their corporate stakeholders are at an important moment. The brand of a streaming service is as powerful as the studio logo before a theatrical film once was. As ever, the brand is only as good as the titles that are available; titles in an archive have an inextricable link to the brand. How the film was made, the complex talent needed to make films, the contemporaneous history of the film's production – these are all stories that archivists should tell to provide the emphasis on the brand. Additionally, new streaming services that do not have decades of history still play crucial roles in the capturing of important cultural and technical history: titles that are groundbreaking and award-winning; titles that are key milestones for the streaming service; titles that are tied to their brand.
Treating a "servicing" library differently than a "preservation archive" may have risks when everything is digital. Repositories can become out of sync when updates to a servicing library aren't reflected in the preservation archive. Providing information about the availability of assets to those who need to use them can be cumbersome.
How can archives help to present the totality of the library in useful and dynamic ways while continuing the work of preservation?
Making "servicing" and "preservation" archives work together demands that archivists, technologists and stakeholders see that both functions are critically important. Archivists need to make sure they work closely to include their functions in an overall strategy rather than insist on a separate approach, and stakeholders must not overlook the needs of preservation in the rush to provide a servicing model.
Other questions will require further thought and analysis to establish practices and solutions. For example, as media & entertainment companies shift their focus to internal streaming platforms, new "key performance indicators" will drive the determination of success and value. Things like "New Subscriptions" and "Subscriber Churn" are now important metrics.
While it's clear that new content can drive "New Subscriptions," how can the digital archive help do the same?
How is the discoverability of catalog important to its use on streaming services? Whether a user searches for a specific title, is recommended to one, or is inspired to watch something they've never seen as "new," how does that help the overall service?
Which is a better approach for catalog and subscriber maintenance, quantity (lots of catalog titles) or quality (curated and highlighted catalog titles)?
How does this play out over time? Are increases in subscribers and churn reductions sustainable based on catalog content?
Should archive analytics be tied to internal direct-to-consumer analytics as churn reduction solutions start to evolve?
How can great/remastered/restored catalog titles be used to increase higher-value subscriptions?
How do iconic titles connect with our most valued customers?
How can special events/offerings that draw on archives impact these metrics?
Additionally, the repertory market is moving to home viewing, just as new features are being made with a view to rapid release to streamers.
How will the shrinking availability of theaters impact the archive?
How can the preservation archive make sure it has the assets needed for all business units who need the digital supply chain?
How can archivists become good technical partners, using automation to manage routine and complex tasks so that bigger questions of strategy and legacy can be addressed?
Archivists in the entertainment industry are dedicated to the legacy of the films they preserve and restore, and cognizant of the power and reach of technology associated with the changing landscape that streaming at home has presented.